If you're managing the marketing efforts for your company, it's important to have your hands on an essential set of tools – and logins!
In many small to medium-sized companies, marketing gets thrown in with operations, IT, sales, or customer service. It's not uncommon for it to be spread out among different people in many different areas.
While it's often done out of necessity, this can lead to a few common challenges:
You never quite have your hands on the things necessary to track your marketing efforts
You're always at risk of losing access to a critical tool that makes it possible to post content, respond to reviews, claim listings, etc.
It's way too inefficient!
This post will give you the 10 things you need to have access to in order to effectively manage your marketing.
Hint: If you just took over the marketing responsibilities (lucky you!), we created a handy-dandy checklist that makes your job way easier. Get it here:

1. Your website
Having access to your website is like having the keys to your house. You need to know how to get in, look around, and invite a house cleaner or builder in to help you with the job. You don't necessarily need to know how to update or manage it, but you do need to have the keys to get ALL the way in.
Many times, companies will have a freelancer or contractor set up a website for them, who then never give them full access to the site. We understand why they do that, but you should have full access on at least one seat in case anything should ever happen to the contractor. It's kind of like a spare key to your front door.
Common website content management systems that you'd be logging into include WordPress, Squarespace, Drupal, etc.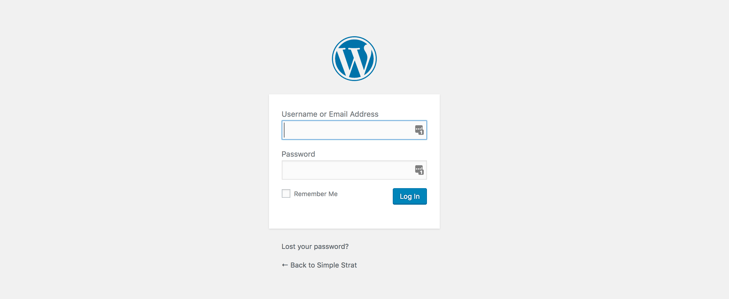 2. Your domain
Who registered your domain (the actual URL to your website)? Some companies choose to have their marketing company manage the domain for them – and many domain hosts have setups where they can grant another party (such as a marketing company or contractor) access to the domain. We never recommend that a marketing company or contractor purchase the domain for you because it's the under their control and you run the risk of losing it – which would be a significant loss considering it's like losing your address on the internet!
Common domain hosts include namecheap.com, GoDaddy.com, 1and1.com, and more.

3. Google Analytics
Google Analytics is a fantastic tool to measure the activity on your website (assuming it's been set up correctly). It should be set up so that you are an administrative user on the account, which allows you to set up new users if needed, or remove old users. If another company sets up your analytics account and doesn't give you access, you run the risk of losing that information if the company closes, or the email they use to manage the account goes inactive.

4. Google Search Console
Similar to Google Analytics, Google Search Console allows you to see the search query data for your site (what words/phrases bring up your site when people search for them), relevant rankings for those keywords/phrases, search errors, impressions, click through rate, which sites are linking to yours, and much more.
On Google's Support area, it offers a few more ideas for application:
Make sure that Google can access your content
Make sure your content appears well on mobile
Submit new content for crawling and remove content you don't want shown in search results
Maintain your site with minimal disruption to search performance
Monitor and resolve malware or spam issues so your site stays clean
It's really a valuable little tool – but be forewarned as it's much more techy than the other tools on this list, so delegate if you need to!

5. Social Media Logins
While this is often assumed, we've run into a number of instances where the social media logins were all tied to an old employee's email address and they were still being used. Facebook Business manager now makes this easier by allowing you to set up your Facebook Business Manager account and then simply add and remove seats there, rather than through the personal interface. Twitter, YouTube, and Instagram, however, still require a single login, so set up a social media email address and make sure that someone in your office is a backup for that address!
For LinkedIn, make sure you have access to the company page. If you don't have a company page, set one up.
6. Email
This means 2 types of email – email campaign tools and the "public email" listed on all public websites, such as Google, Yelp, YP.com, etc.
Many times companies will set up an email such as info@mycompany.com but they don't realize that it was forwarding to a person who no longer works at the company. Make sure you have access to this email address and that it's forwarding to the right person, or preferably, two people so you always have your bases covered.
For email campaign management, this would be the program that you use to send out email campaigns, such as:
On some of these email management software platforms, you can add a user so that you're never giving out the credentials to the account.


7. CRM
You may have this, you may not. Either way, the question becomes….where does all of your data live? CRM is short for Customer Relationship Management system. Common CRMs include Salesforce, Microsoft Dynamics, Zoho, Highrise, Hubspot CRM, etc.
If you don't have a CRM, you'll want to ask for the spreadsheets of customer data, such as email addresses for starters!

8. Social Media Tools
This would include any posting tools you've been using, such as sproutsocial, Hootsuite, Buffer, etc. If these tools have been active, you'll gain insight into previous social media content that was posted by your company as well as the metrics and engagement with specific posts.
9. Google and Bing Places Listing
Every business owner needs to have access to their Google and Bing location listings. These are free, easy-to-use tools for companies to use to manage their online presence across the web, including search and maps. You should claim the listing(s) (if you haven't already), monitor the listing(s), and update information as needed.
10. Names and contact info of any marketing/web/advertising/promotions vendors
There will come a time that you'll need this information, if you haven't needed it yet. If you need to reorder a banner for this year's tradeshow but you want to use the same skeleton, you'll need the name and contact info of that vendor. If you have a problem with your website, who manages it? If you had an adwords account long ago, but you want someone to help you with it, you'll need to know who worked on it before.
All of these things seem like a low priority when you're first stepping into the role, but they become a necessity rather quickly. Having a list handy will help!
BONUS:
One final thing that's super helpful if you have it (but many companies do not!) is a brand guide. This will help keep your brand in check with consistent integration of the brand colors, fonts, structure, photos, etc.
Whether you're new to company or been there for a while, you can start managing your marketing like a pro. With this list of 10 essential items, you'll have everything you need to get your marketing off the ground and keep things running smoothly!